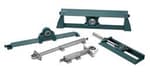 Images are representations only.
Description
Dodge offers 8 take-up frame types available from stock with standard frame travel from 1-1/2" to 60." Take-up frames allow for the mounting of Dodge ball, roller, and sleeve bearings.

We pre-engineer our frame capacity to exceed the bearing capacity for excellent performance.

Our take-up frames are made to provide and maintain tension and shaft centers on a variety of belt and chain-type conveyors.
Features
8 take-up frame types available from stock
Standard take-up frame travel from 1-1/2" to 60"
Take-up frames allow for the mounting of Dodge ball, roller, and sleeve bearings
Take-up frame capacity is pre-engineered to exceed bearing capacity
Made to provide/maintain tension and shaft centers on a variety of belt and chain-type conveyors
Telescoping and wide slot take-up frames are available in stainless steel
Applications
Typical Applications
Belt Conveyor Applications
Chain Conveyor Applications