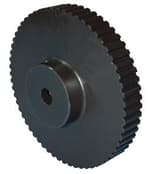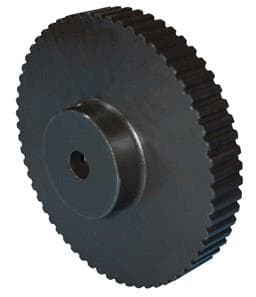 Images are representations only.
Description
Dyna-Sync belt drives provide synchronized, quiet, no-slip transmission, using Taper-Lock shaft attachment.

They require no lubrication and are rated 98% efficient.

Available with standard neoprene belts or dual-sided belts for serpentine drives, they represent the original "timing" belt drive with a trapezoidal tooth profile and still provide a practical solution to many lower HP/torque drives.
Features
Clean Compact Taper-Lock design
Precision Manufactured ISO 9000 certified plant
Flanged design standard on Driver Sizes
No lubrication required
Low maintenance, the original timing drive
Dyna-Synch is ideal for replacement drives or for applications that are below the range of 8 mm HT150
They are offered in five pitches: XL, L, H, XH and XXH
Drive ratios of more than 6:1 are possible and horsepower capabilities range from fractional to 25 hp (18 kW) at 1750 RPM
Stock pulleys are flanged up to 48 teeth
Applications
Typical Applications
Unit and bulk material conveyors
Air handling fans, blowers and exhausts
Pumps and compressors
Crushers, shredders, breakers, classifiers, shaker screens
Woodworking saws, mills, planers, lathes
Machine tools