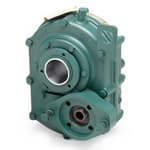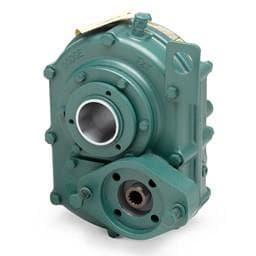 Images are representations only.
Description
Dodge HXT Torque-Arm is a hydraulically driven shaft mount helical gear reducer that mounts directly to the driven shaft. Using standard SAE hydraulic motors, the gearmotor package is an excellent decision for the toughest environments.

HXT is also available in a screw conveyor package (HSCXT) that mounts directly to the trough end of the screw conveyor. By using the optional adapter and drive shaft, HSCXT is an economical decision for portable applications requiring a heavy duty solution.
Features
7 case sizes through 50 hp (37.5 kW)
Heavy duty sealing system
Raised motor attachment area with splined input shaft
Ratio range of 5:1 to 25:1
Twin Tapered Bushing system eliminates fretting corrosion and can be installed with regular hand tools
Screw conveyor trough end adapters
Straight bore configurations with stock drive shafts for most CEMA designed screws
Perfect fit for harsh duty industries
Bearings are sized to conform to American Gear Manufacturers Association (AGMA) and American Bearing Manufacturers Association (ABMA) design of an unadjusted minimum of 25,000 hrs average life (L-50) in Class I applications.
Applications
Typical Applications
Apron feeder
Belt conveyor
Bucket conveyor
Drag conveyor
Ribbon mixer
Roller bed
Screw conveyor
Vibratory feeder