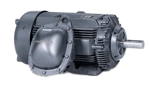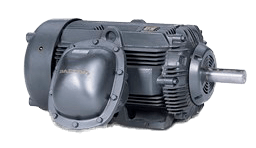 Images are representations only.
Description
Our extensive line of Division 1 Explosion Proof motors are designed and built to contain an explosion inside and not propagate it into the surrounding atmosphere.

Approval listings are available for Class I (Gas) and or Class II (Dust) hazardous environments.

Suitable for fixed speed, sine wave only operation.
Features
UL & CSA approved
Motors to be suitable for Class I, Groups A, B, C & D, Division 2 are available as any enclosure
Motors suitable for Class II, Groups F & G, Division 2 are available in TEFC, TEFC-XT, TEBC, TEAAC and TEWAC only
Any grounding provisions must be in the main conduit box
Motor accessories must be non-sparking or approved for Explosion Proof (XP) duty
Ambient may not exceed 60°C (make addition for higher than 40°C ambient as required)
Space heaters, if required, must have a sheath temperature not exceeding 80% of the ignition temperature of the appropriate class and group
Totally enclosed heavy gauge steel and cast iron construction
60Hz & 50Hz data included on the nameplate
1.0 Service Factor
Super-E® explosion proof motors have NEMA Premium® efficiency and 3 year warranty
Fixed speed sine wave operation only
Applications
Typical Applications
Compressors
Pumps
Fans
Conveyors
Gear Reducers