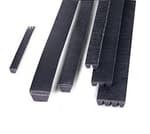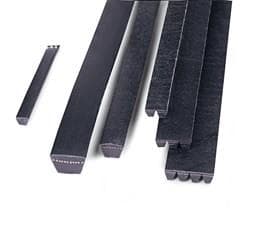 Images are representations only.
Description
D-V wedge belts (3VX-5VX-8V):

V-belts allow compact, lighter-weight drives and feature a high-strength tension member for rated power with minimum stretch. Their molded cog construction accommodates extended belt lengths, wedge v-belts available also.

S-L classic belts (A-B-C-D):

S-L Classic belts feature a cable-cord envelope construction that provides greater stability on long center-distance drives, as well as assures more tolerance to shock loads.

Classic cog V-belts (AX-BX-CX-DX):

Ensuring maximum flexibility, Classic cog v-belts feature a molded cog construction and an energy-saving, efficient design. They allow higher HP ratings on smaller sheaves and require fewer belts for a more compact drive.

Polyband belts are available:

Two or more belts are joined on a single band permitting use of standard sheaves without alteration of the drive.
Features
Economical cost per HP transmitted
Long, dependable performance (oil resistance and static conducting)
Full range of Classical (A, B, and C) and D-V Wedge (3V, 5V, and 8V) belts
Manufactured to RMA standards
Polyband, Double-V (hex), and FHP belts available
Lengths from 22" to 660"
Drive capability from 1 HP to over 1000 HP
Applications
Typical Applications
Unit and bulk material conveyors
Air handling fans, blowers and exhausts
Pumps and compressors
Crushers, shredders, breakers, classifiers, shaker screens
Woodworking saws, mills, planers, lathes
Machine tools