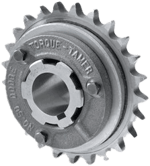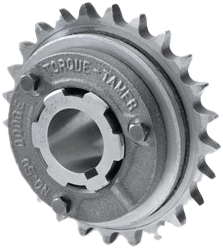 Images are representations only.
Description
Intermittent shock loads or overload conditions can stress equipment to the point of premature failure.

Dodge Torque-Tamer clutches provide a simple, economical solution.

When an overload occurs, the Torque-Tamer is designed to slip, protecting valuable gear reducers and other connected equipment.

Once the overload is cleared, the Torque-Tamer automatically resets and resumes transmitting torque.

Dodge Torque-Tamers are easily adjusted to slip at a specified torque value, allowing for customized protection.

Suited for use in a wide variety of applications, Torque Tamers may be used with stock or special sprockets, gears, sheaves, or other driven members.

With non-asbestos friction discs, long-life bushings, and no required lubrication, Torque Tamers are built for long life and minimal maintenance.
Features
4 sizes available: 25 to 70
Maximum Bore: 3" [80 mm]
Maximum Torque: 11,500 in-lbs [1,300 Nm]
Economical overload protection for gear reducers and other connected equipment
"Easy Set" adjustment allows for customized slipping torques with minimal tools
Automatically resets, resuming torque transmission after overload is cleared
Non-lubricated, requiring minimal maintenance
For use with #35 through #160 chain sizes, with stock or special sprockets, gears, sheaves, or other driven members
Finished bore designs in popular sizes available from stock
Utilize non-asbestos friction discs and long-life bushings for increased performance
Applications
Typical Applications
Conveyors
Bulking Material Handling