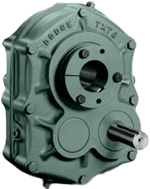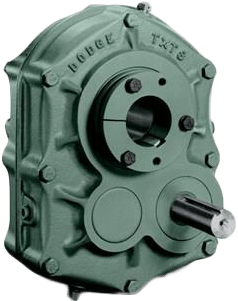 Images are representations only.
Description
Dodge Torque-Arm (TXT) is a shaft mount helical gear reducer that mounts directly to the driven shaft.

TXT is a proven gear reducer that can be installed in the toughest applications requiring long life.

Many accessories are available to make this reducer suitable for a wide range of environments.
Features
14 case sizes through 700 hp (500 kW)
Heavy duty sealing system
Steel motor mount system
Ratio range of 5:1 to 25:1
Patented twin tapered bushing system eliminates fretting corrosion and can be installed with regular hand tools
Perfect fit for harsh duty industries
Bearings are sized to conform to American Gear Manufacturers Association (AGMA) and American Bearing Manufacturers Association (ABMA) design of an unadjusted minimum of 25,000 hrs average life (L-50) in Class I applications.
Applications
Typical Applications
Apron Feeder
Belt Conveyor
Bucket Conveyor
Drag Conveyor
Ribbon Mixer
Roller Bed
Screw Conveyor
Vibratory Feeder