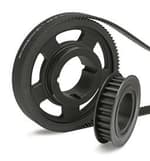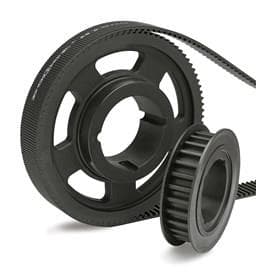 Images are representations only.
Description
The Dodge high torque HT500 synchronous drive product line utilizes a modified curvilinear tooth profile to delivers high torque, low maintenance, and high energy efficiency with less overhung load than v-belt drives.

The HT500 product family features a complete offering of synchronous sprockets with shaft attachment options including Taper-Lock and QD* bushings (Fin fan); as well as minimum plain bore sprockets (MPB), and idler sprockets available from stock.
Features
Available in 8mm and 14mm metric pitches covering a range from fractional to 1500HP.•
5% or more energy efficient
More torque with less belts
Compact design
Less maintenance
Less belt pull
Synchronous belts do not need to be re-tensioned after it is installed HT500 belt runs slip free requiring less maintenance and re-tensioning (over traditional V-belts)
HT500 belts operate in wet, dusty, and oily environments, it also has the capability to handle higher temperature than V-belts
No lubrication required when compared to roller chain drives - savings opportunity
Ideal to convert legacy 20mm HTD drive system - cost savings opportunity with drive optimization
Applications
Typical Applications
Unit and bulk material conveyors
Air handling fans, clinker cooler fans, blowers and exhausts
Pumps (slurry - large HP) and compressors
Crushers, shredders, breakers, classifiers, shaker screens
Woodworking saws, mills, planers, lathes
Machine tools